The mystery shooter of our banner at the IWA 2018!
Many clients and guests during the IWA 2018 have asked us who is the mystery shooter of our banners.
It is the young Jørgen Engen (1997), skeet shooter of the Norwegian clay shooting team.
Jørgen's performance in clay shooting has gone really fast. He has started to practising clay shooting by the end of 2012 and started competing in 2013.
He trains at the Løvenskioldbanen shooting centre in Bærum, very beautiful shooting ground very close to Oslo. they usually use  Super Star clay targets in this shooting ground. He is very disciplined and trains almost every day, even with snow and bad weather.
His coach is Lasse Johnsen, a very nice and well-known person in the Norwegian clay shooting, who was Norwegian champion in skeet 1981 and has being may times on the podium, both in Nordic trap and Olimpic trap. He has also competed with the national team in numerous European Clay Shooting Competitions and ISSF World Cups.
Jørgen became Nordic champion in 2016 and won the Nordic Ranking final three times in 2014, 2015 and 2017.  He also became Norway Champion in 2017 and got a 5th place in the European Championship Baku 2017. All these positions have been in the Junior class.
This year he has started to compete in the open class and has participated with the rest of the shooter team in Cyprus, that was in February. There it was a training session, ending the competition with 118, what it was a nice start to the season!
At Easter, Jørgen first attended a Rena rally meeting, which he shot 118 and became number 4. Later in the Easter season, he shot a Grand Prix event in Denmark, then he shot 116 and led the lead and shot 56 of 60 in the final and won the race.
We were with him some months ago and took the following pictures: https://www.youtube.com/watch?v=Sg8ziZs6zak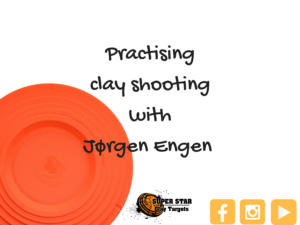 We are really delighted to have Jørgen Engen in our banners. We are very grateful and wish him the best achievements this year at clay shooting competitions. We are sure he is going to have a great future in skeet shooting.
Main achievements:
15th at the WCH MOSCOW 2017
9th at the JWC PORPETTO 2017
49th at the JWC SUHL 2016
44th at the IJC SUHL 2015
5th at the ECH BAKU 2017
25th at the ECH LONATO 2016